I was lucky enough to grow up around travel, and experience some amazing places, from Brazil to Egypt to Thailand. Travel is my passion and I'm always dreaming of my next trip. After travelling around so many different countries with my family, once I was old enough I started to plan my own trips.
I worked in Paris during my school holidays, where I practised speaking French for my upcoming French A-Level. I also worked in a small school in Kenya, in a village just off the coast called Mwabungu during university. After having so many incredible experiences, I am looking forward to helping other people plan their perfect trips.
Speak to Ella

Start planning your tailor-made trip with Ella
Q&A with Ella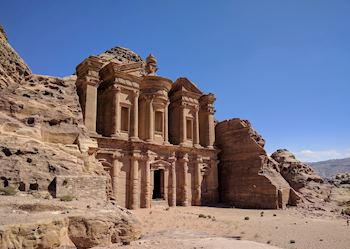 What's your most vivid travel moment?
When I was 12 years old, I journeyed to Jordan with my family. We visited the incredible lost city of Petra, which took my breath away and is still one of the places that my family and I talk about as the most amazing experience of our lives. Arriving by camel, we reached Petra and saw the breathtaking temples carved into the pink sandstone cliffs. Even though I was young at the time, this experience has stayed with me ever since. After exploring the wonders of Petra, we headed to the Dead Sea. Here we floated on the incredibly buoyant ocean and covered ourselves with Dead Sea mud. It was a really great experience and unlike anything I had ever (and still haven't) experienced.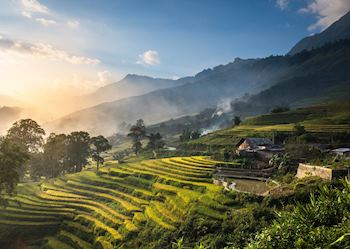 Where would you love to travel next?
I've wanted to travel to Indonesia for years and visit its stunning range of islands. From Bali's incredible terraced rice paddies to seeing the unusual dragons in Komodo National Park to going diving in Mantra Point, off the south shore of Nusa Penida. Indonesia has so much to offer.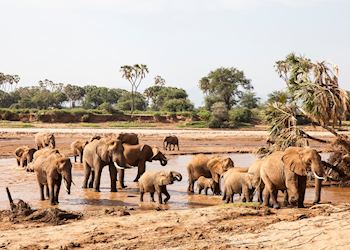 Which book, film or artwork captures Africa the most?
I studied History of Art at Bristol University and a piece of artwork that captures Africa for me is Elephants D'Afrique by Charles Emile de Tournemine. I remember I first saw this artwork while visiting the Musee d'Orsay in Paris. It instantly transported me back to the great plains of Africa and the golden sunlight of dusk where the elephants drank and played in the watering hole. I always felt at one with nature while in the national parks of Kenya and this painting portrays all those emotions I felt on my first safari. There is nothing like the feeling of being completely removed from the hustle and bustle of modern life, surrounded by herds of majestic elephants by a glistening waterhole. This stunning painting captures that perfectly.